A Data-Driven Business captures, correlates, and monetizes data enterprise-wide, yielding high-value business cases with artificial intelligence and machine learning (AI/ML) and optimizing and improving data extraction and analysis.
What Is the Autonomous Digital Enterprise?
The Autonomous Digital Enterprise is the framework for the successful future enterprise. It's a digital-first business with distinct tech tenets and operating model characteristics that support transformation through actionable insights, business agility, and customer centricity. Data-Driven Business is one of five tech tenets that galvanize and sustain the Autonomous Digital Enterprise.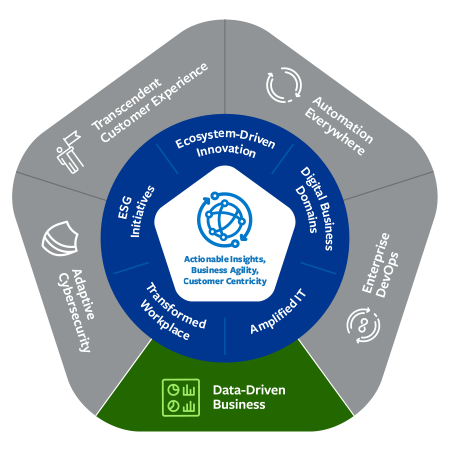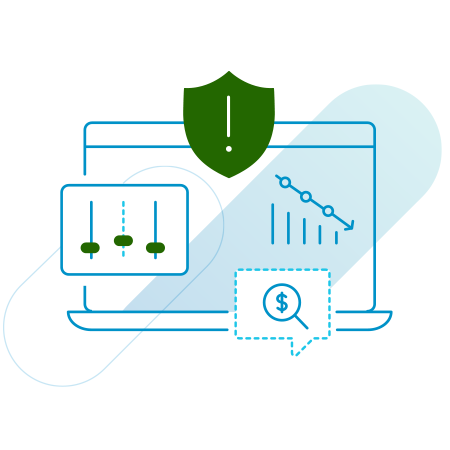 Current Business Challenges
Research shows that worldwide data volumes will reach 181 zettabytes by 2025. With nearly 16 billion mobile devices expected to be online in 2022 and 64 billion Internet of Things (IoT) devices expected to be online by 2025, the amount of data will continue to grow. All that data can be a goldmine for businesses if it's used correctly. But managing data and using it to grow your business can present an array of challenges, including:
Multiple teams, tools, processes, and sources of upstream and downstream data
High failure risks, inability to scale, and difficult governance
Expensive, inefficient monitoring and controlling capabilities
Inability to manage constant data streams fast enough to meet customers' performance expectations
Ensuring optimal performance and availability for existing services while continuing to innovate
How Technology Helps
The technology behind the Data-Driven Business includes AI/ML integrated with automation tools. Working together with human expertise, they combine to:
Convert raw data into insights and actions by orchestrating complex data pipelines
Monetize data with insights, bartering, brokering, and business intelligence
Ensure data compliance with data quality best practices
Protect privacy with governance tools
Automate workflows for improved visibility and control of the entire data pipeline
Leverage predictive analytics to ingest, store, process, collect, and analyze data
Use performance, management, recovery, and cost optimization solutions to keep mainframe-based applications running 24x7