BMC Client Management 12.x: Fundamentals of Inventory and Patch Management
BMC Client Management is advanced systems management software that provides a reliable way to monitor all systems on a network. It is composed of five modules, which can be purchased individually or as the complete suite, either on site or in the cloud: Inventory, Patch, Deploy, Compliance, and Remote.
This course, which is a combination of the BMC Client Manager 12.x: Inventory Manager and BMC Client Management 12.x: Patch Manager courses, guides students to configure Inventory and Patch modules. This hands-on training will teach you to effectively maintain a comprehensive hardware and software inventory of your complex IT environment. You will also learn how to deploy the Patch module.
Included in this course is an optional examination for BMC Accredited Administrator: BMC Client Management 12.x Inventory and Patch Management.
Good for:
Administrators, Developers
Course Modules
Core and Remote - Using Common Client Management Objects

Device Groups
Creating User Groups
Creating an Administrator
Connect to Directory Services
Creating an Administrator Group

Defining a Security Profile
Operational Rules Overview
Creating and Assigning Operational Rules
Creating Reports
Core and Remote - Client Management Agent Rollout

Agent Rollout Overview
Executing Asset Discovery via the Wizard
Scheduling Tasks
Creating an Agent Rollout via the Wizard
Launching the Agent Rollout Wizard
Initiating Rollouts on Discovered Devices

Monitoring a Rollout
Rollout Server Page
Modifying the Rollout Properties
Uninstalling the Agent
Inventory Manager - Generating Inventories

Generating Inventories Overview
Hardware Inventory Using Op Rules
Modify the Hardware Inventory .INI File
Software Inventory Using Op Rules

Security Settings Inventory Using Op Rules
Custom Inventory Using Op Rules
Custom Inventory from CSV File Import
Inventory Manager - Software Management

Software Management Overview
Adding an Application to the Catalog
Creating a Schedule Template

Setting Up Application Monitoring
Using Software License Management
Patch Manager - Patching Managed Devices

Patch Management Steps
Create a Patch Inventory Op Rule
Create a Patch Inventory Op Rule Using the Wizard
Assign the Op Rule to a Target
Monitoring Op Rule Execution
Verify Patch Status

Patch and Service Pack Distribution
Monitor Patch Installation
Purging Patch Inventory
Patch Jobs
Generating Out-of-the-Box Reports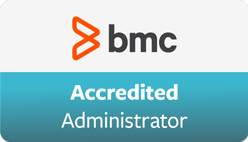 Accreditation is available upon successful completion of this course.